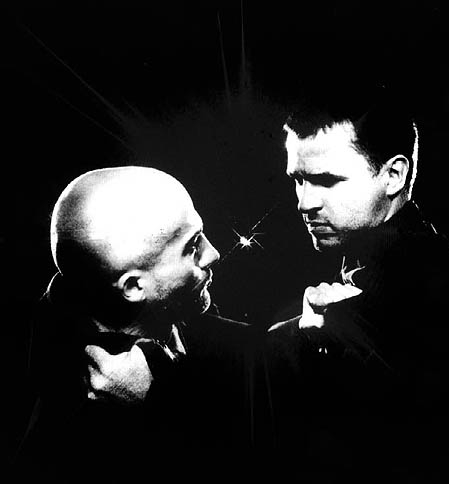 Cassius in the house.
You might not have heard of Cassius before but you have heard their records. If at some time over the past six years you've heard MC Solaar, Motorbass or La Funk Mob, you've been digging the sounds of Boombass (Hubert Blanc-Francard) and Philippe Zdar.
Now, ten years after they first met, 1999 by Cassius is the album these two 31-year old Parisians have always threatened to make. The album bears the fruits of a decade spent listening to the most cutting edge music, soaking up hip hop beats and house music production values. This one is going to be a classic.
Recorded over three short weeks in the summer of 1998, 1999 mixes the funk-filled vision they brought to La Funk Mob's early Mo' Wax releases with the energy Philippe has brought back from his storming DJ sets at clubs like Respect in Paris and South London deep house booze-ups Basement Jaxx and Scaramanga. "It's a mix of all the music we started with," says Philippe, "mixed with all the new music we like. It has funk influences and house influences."
The music they both started with was, of course, hip hop. Hip hop was both the catalyst that turned the teenage Hubert and Philippe away from elder brother stuff like The Police and the musical bond that brought them together. "We were into music before," they say, "but it wasn't our music. Hip hop was ours, it wasn't our parents' records."
Boombass grew up on the west side of Paris. His father was a top Parisian record producer, so it was natural Hubert would want to follow in his footsteps. "I started making music when I was 13," he shrugs. "But it was crap. So I quit" He got a job as a teaboy at a recording studio. By 1991 he had become a producer, was known as Boombass, and was working on MC Solaar's first album.
Philippe grew up in the Alps, where he still returns every year to ski ("but not snowboarding," he states emphatically.) he landed a job assisting Hubert's father and studied to become a studio engineer. He met Boombass in 1988. The pair were both obsessed with hip hop, disgracefully fashion conscious and both fascinated by cool American films. A ten year friendship was struck. Phillippe became Hubert's engineer and a couple of years later they were production partners.
In between producing three hugely successful French albums for MC Solaar, including the minor UK hit "Bouge De La", they developed the abstract, proto trip-hop grooves of La Funk Mob. By 1994 they were busy breaking boundaries and messing up heads with La Funk Mob's seminal hip hop/funk/electro/weirdo-freak-out EP "Ravers Suck Our Sound". Meanwhile Philippe had discovered a new obsession, House music, and the last piece of the Cassius puzzle was falling into place. "In 1992 I went to a rave" he enthuses, "from then on I loved techno."
Philippe had found an outlet for his new passion recording as Motorbass with Paris DJ Etienne de Crecy, the man behind 1997's Superdiscount. Together their Pansoul album remains one of the benchmarks of French house music's dynamic first wave, along with Daft Punk's Homework and Dimitri From Paris' Sacrebleu. Philippe talked Hubert into making a house track as a laugh. The result was "Foxy Lady" by L'Homme Qui Valait Trois Millards (The Six Million Dollar Man). The resultant slice of squelchy tech-disco became a standard for ever DJ from Andy Weatherall to Harvey. Hubert started to realize house music wasn't so bad after all. Cassius was born.
"What we really like," say Cassius, "is heavy bass. We listen to Daft Punk, DJ Sneak, Tuff Jam, Masters At Work, 2-step speed garage, DJ Premier, Timbaland, Drum 'n' Bass. You might not hear it on the record, but it's all there."
Cassius are both French dance music's missing link and it's old skool originators. The sound that combines the pop appeal, the heavyweight underground groove and the sheer brilliance of Air, Daft Punk and Dimitri. Their album 1999 is well-named - because that year will belong to Cassius. Believe it.
(Press Release)